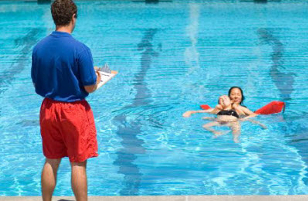 American Red Cross Lifeguard Instructor Course
American Red Cross Lifeguard Instructor course will train and certify participants to be a national Lifeguard, First Aid, CPR/AED Instructor for the Professional Rescuer. We teach a blended learning course format with online education, classroom and in-water components. This is a 24  hour course that includes 4 practice teaching sessions, in which the students each teach a portion of the lifeguard course.
Fee: $250
Register online by Clicking Here
Prerequisites
You must pass the pre-course skills to get into the course.
This can be done by appointment.
Be at least 17  years old.
Have a current basic-level certification in Lifeguarding/First Aid/CPR/AED.
Successfully complete the online introduction to the course.
Obtain all instructor and participant manuals and DVD.
Pass all pre-course skills test: do all in water rescues and extrications, and demonstrate CPR/AED skills.
Class Dates & Times
Currently, we have no class dates set yet for 2020, please check back soon. In the meantime, provided below are some upcoming courses in the surrounding area:
Jan 17th – Jan 19th,

New Oxford, PA. Click here for the course link.